China quality architectural woven metal mesh exporter
Views: 5 Author: Site Editor Publish Time: 2019-03-15 Origin: Site Inquire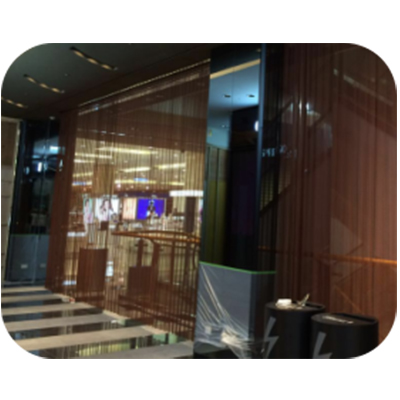 The size of the architectural woven metal mesh is the same as the way the fabric is woven on the loom. The most common materials used to make architectural woven metal mesh are carbon steel, galvanized steel and stainless steel, and aluminum.
architectural woven metal meshes open up a whole new range of possibilities in your design capabilities. Masewa produces a wide range of high quality, aesthetically pleasing architectural woven mesh panels and fabrics to complement your design vision. High-end building mesh fasteners provide versatility and durability for your project, creating more design possibilities!
Architectural woven mesh, S-55 weave is a fine panel made of tightly woven oval curl. Suitable for indoor and outdoor applications, including the railings, screen walls and room dividers, the S-55 offers near-opaque properties for semi-private spaces. The 0.1"-thick S-55 panel is available in a variety of metals and secondary finishes. Customized.
Thanks to the functional and aesthetic features of our Masewa Architectural Mesh, it offers new and versatile architectural applications. Building wire mesh is convincing with its noble optical components while meeting the highest standards of safety and stability in indoor and outdoor applications