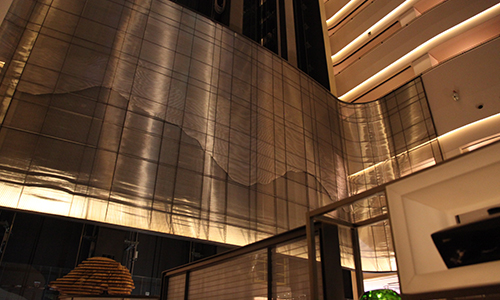 Designed to meet the functional requirements of projects ranging from small indoor applications to large external applications, Coiled Wire Fabrics enable architects and designers to meet their unique performance standards without sacrificing their design vision.
Coiled wire fabrics are ideal for retail venues, airports, convention centers and storefront fences in a variety of other public spaces. Contrary to the cumbersome, unsightly metal security door used to protect the storefront, coiled wire fabric provides a reliable, visually appealing security for your space. The coiled wire fabric safety system allows unrestricted HVAC airflow, is acoustically transparent, and allows company signage, products and advertising to remain visible through the grid.
MASEWA has a variety of unique accessories, including fixed and track. With customizable hardware, materials, weaving, facing, flat or profiled designs, our prefabricated systems can be modified to meet the requirements of your individual project.
MASEWA uses coiled wire fabric in a variety of metals, sizes, colors and finishes, with internal and external projects ranging from small to large. The versatility of the coiled wire fabric makes it an ideal choice for a range of performance and design standards.