Decorative Metal Coil Curta
Views: 12 Author: Site Editor Publish Time: 2019-09-04 Origin: Site Inquire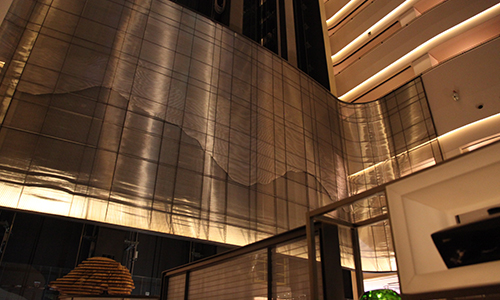 Decorative Metal Coil Curtain are also known as metal coil curtains. Typically, it is made of stainless steel wire, aluminum wire, copper wire or other materials. It is a new type of high-end metal curtains, such as chain curtains and used to decorate office buildings, hotels, shopping centers, concert halls and other places. Compared with traditional curtains, metal coil curtains have excellent fire resistance, breathability and light transmission, and have a longer service life. In addition, its various spray colors are not only suitable for different design styles, but also meet the different needs of customers. Thanks to its many features, metal coil curtains are ideal for interiors, sun shades, exterior ceilings, security doors and more.

Feature of metal coil curtains:
Beautiful - Create visual decorative effects.
Mildewproof - also suitable for use in humid environments.
Maintenance free - Wipe with a cloth.
Environmentally friendly materials - 100% recyclable.
Anti-rust - no fading, durable.
Easy to install - Lightweight and flexible in construction.
High strength - wear resistance and good toughness.
Ventilation and light transmission - Keep fresh air and enhance lighting.
Cost-effective - versatility, unique texture and durability.
Fire protection - it is not flammable.
Available in different colors and sizes - for different applications.
Unique design and style - to meet the requirements of high-end customers.
Metal roller blinds can be used in many architectural and architectural designs depending on their application.