Masewa——A Professional Architectural Woven Drapery Exporter
Views: 15 Author: Site Editor Publish Time: 2019-09-18 Origin: Site Inquire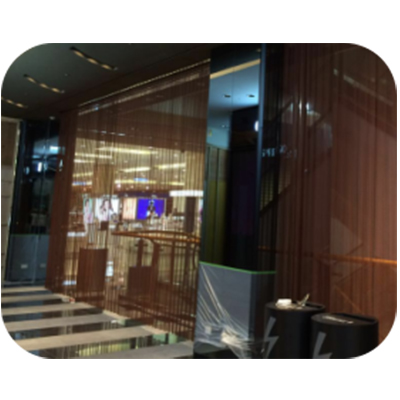 For the architectural decoration of the exhibition hall, the screens of the hotel and the luxurious rooms are also better than the interior and exterior decoration of the office building, dance halls, business halls, shopping centers and sports centers, ceilings, walls, stairs and decorations are widely used for railings. In addition to the decorative effect, the decorative mesh fabric also provides certain protection.
Architectural Woven Drapery can be made from stainless steel, aluminum, copper, phosphor bronze, etc.
Woven Drapery offers a variety of wire diameters, styles and meshes. It consists of wires braided into a variety of unique patterns.
Metal cloth curtains, made of non-corrosive stainless steel cords and threads, are designed with a variety of weights and weaves. Flexible metal enamel can cover large areas and create virtual interior spaces. Combined with LED lights, the curtains create a visual illusion for the building. Metal enamel is a special element of architectural decoration, and metal curtain facades can easily capture your eyes.
Our maintenance-free woven wire curtains are suitable for a variety of applications, including facade, wall coverings, pillar cladding, awnings and canopies, gates, elevator cabs, stairs and railings, partition screens and many other applications.
The woven metal mesh creates a very effective look that can be enhanced by hanging together using different grades of mesh, creating a sense of perspective as described above. When used as a room divider, different viewing angles given by different levels produce a visually effective decorative effect. Moreover, the fact that it can easily slide to one end allows for greater space to take advantage of flexibility.
Metallic curtains are usually used, with a fullness of 180%-200%. Curtain tracks (straight track/curved track) and accessories are provided. The woven wire drapery is a very famous architectural grid. It is suitable for indoor and outdoor decoration. For indoors, it can be used as a room divider, decorative curtains and ceiling curtains. For exterior applications, it is an ideal replacement for building facades, pillar cladding and wall coverings. Due to the narrow space between two adjacent wires, it is the best choice for the protection of stairs, elevator cars, rails and railings.