Metal Woven Mesh For Ceiling
Views: 4 Author: Site Editor Publish Time: 2018-09-11 Origin: Site Inquire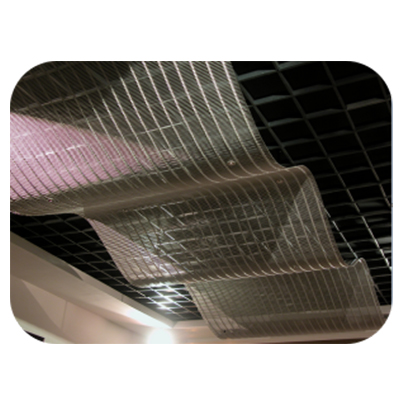 As a Ceiling roof aluminum expanded metal mesh exporter, we know that the Metal woven mesh for ceiling is also called Perforated Aluminium Pop Metal Restaurant Ceiling whose structure is rod by rod, it do not bend, the two sides in good flatness, suitable for indoor ceiling, stair fence screen and so on.

Some clients like the metal mesh ceiling in wave style, we can do it as your design, the woven mesh will be made by cable and rod, cable direction will be made into wave style.

Standard Size of metal mesh ceiling panels: 600mm * 600mm, or it can customize according to customer's requirements.

Appearance of metal mesh ceiling panels : in order to ensure smooth mesh, the production equipment used heavy equipment, the average tensile strength of 5 tons, ensure the tightness in the process of weaving mesh.

Color of metal mesh ceiling panels: stainless steel is generally original color, if you need to do special colors, can do fluorine carbon spraying, plating color. Copper color commonly used copper quality.