Stainless Steel Rope Mesh
Views: 8 Author: Site Editor Publish Time: 2018-08-07 Origin: Site Inquire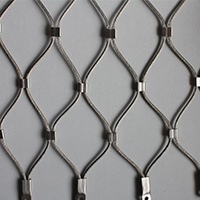 With different diameter of cable and crossover structure, Masewa stainless steel ferrule rope mesh creates different decorative styles.
Simple and elegant appearance can't express its complexity of workmanship.
With a bold exaggerated open area, the decorative space can be released without reservation, its soft design makes it possible to set out any shape in different decorative space .Either with flowery lights, flying birds, bright flowers,or people in love,it is enough to create an emotional appeal of quietness,leisure,and romance.
As China stainless steel rope mesh netting exporter, Masewa stainless steel wire rope ferrule shows a strong vitality in modern market, with its perfect combination of decoration and protection, no matter indoor or outdoor, it can be widely used for artistic, zoo fencing ,interior decor ,exterior facade ,stair rail and so on.Also it can be developed for other application as your design.
Material of Cable: AISI 304, AISI 316
Material of Loops: AISI 304, AISI 316, Tinned Copper, Aluminum
Size:Customized
Different Application

不同的用途

Common specification

常规规格

Model NO.

型号

Wire Diameter

(mm)

丝径

Rope

length(mm)

孔径

Interior Decor

室内装饰

XAA-1525

1.5

25

Stair Railing

楼梯围栏

XAA-1550

1.5

50

Aviary Fencing

鸟类防护

XAA-1530

1.0

30

Exterior Facade

室外幕墙

XAA-30140

3.0

140

Large Animals Fencing

大型动物围网

XAA-2040

2.0

40