Decorative Aluminum Drapery
Views: 1 Author: Site Editor Publish Time: 2019-05-14 Origin: Site Inquire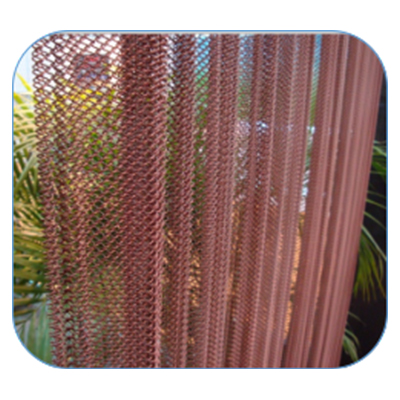 Decorative Aluminum Drapery is also called the aluminum chain curtain, the metal flying curtain. It is made of 100% aluminum and is of superior quality. The aluminum chain curtain is light in weight and simple in structure, making it easy to install and remove curtains.
The surface of the Decorative Aluminum Drapery is anodized. Anodizing is also known as anodization. It provides better corrosion resistance, rust and abrasion resistance for curtains. In addition, the anodized surface treatment ensures that the aluminum drapery is versatile and durable. A variety of colors can make these places stylish and modern. In addition, the durable surface can be kept in good condition for a long time.
Aluminum chain curtains are not only used in curtains, flying curtains and decorative homes, but are also widely used in commercial applications. Decorative aluminum drapery is widely used in office buildings, restaurants and hotel space dividers, which can be used for wall decoration of shopping halls, exhibition halls and concerts, ceiling decoration, lighting.
Feature
suitable size. The right size ensures relative privacy while allowing air and sunlight to enter.

Anodized surface treatment. It has better corrosion resistance and wear resistance.

A variety of durable and bright colors. A variety of colors can be adapted to more design styles, making these places more attractive and stylish. Long-lasting, bright colors ensure long life.

Fixed or flexible type. The aluminum decorative drapery track can be fixed and flexible to meet different customer requirements.

Keep away from insects. Aluminum chain curtains prevent flying insects such as flies, bees, and wasps.

Lightweight. The aluminum material makes the aluminum chain curtain lighter and easier to install and remove.

Smooth surface. Walking is very comfortable and will not hurt the body.

Features. It can be used as a variety of functional applications, such as space dividers, flying curtains,

custom made. We can design and customize products according to your requirements.
Application
The aluminum chain curtain has many decorative and functional applications:

Aluminum can be used as a space divider to separate more functional areas in the office building.

Aluminum can be used to divide some private spaces for people in restaurants and homes.

A decorative aluminum curtain can be used as a fly screen to prevent flies, mosquitoes and other insects from entering the room.

Decorative aluminum curtains can be used for wall decoration in shopping malls, exhibition halls and other places.

Decorative aluminum drapery can be used as ceiling trims and fixtures, so it adds a touch of style and modernity to these areas.

Different colors of aluminum decorative curtains can be formed into various designs, making them more suitable for more design styles, more beautiful and more attractive.

Decorative aluminum curtains can be mounted on the door and form the orientation of the people.