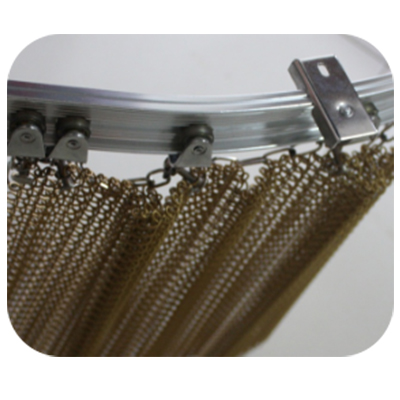 Metal Coil Drapery is a decorative wire mesh made of stainless steel or aluminum wire. When used as a decoration, the Metal Coil Drapery looks like the whole piece, which is different from the strip chain curtain. Due to its luxurious and practical features, Metal Coil Drapery have been chosen by more designers as today's decorative style. Metal Coil Drapery have many applications, such as window treatment, architectural rafts, shower curtains, space dividers, and ceilings. Widely used in exhibition halls, living rooms, restaurants, hotels, bathrooms. Below are the details of the metal wire curtain. In addition, the cost performance of the Metal Coil Drapery is more suitable than the scale mesh curtain and the lock curtain.
The winding increases the fullness, the braided coil adds fluency, and the corrugated curtain adds a mystery. In addition, metal curtains are available in a variety of colors and sizes. The gathered metal wire curtains provide an effective impression. Simply slide the label onto the pole. Due to its particularly free flowing effect, the soft and inductive drape makes it just right.
Features of Metal Coil Drapery:
Appearance effect
Corrosion resistance.
high strength.
No rust.
Fire prevention.
Ventilation and light transmission.
Application of Metal Coil Drapery:
Metal roller blinds have many functions, such as:
Wall decoration.
Shower curtain.
Space divider.
Natural explosion-proof.
lampshade.
Curtain.
Fireplace screen.
Building facade.
Soundproofing.
safety door.
In view of these functions, metal curtains can be used in many places, for example:
balcony.
Exhibition hall.
window.
museum.
Concert mall.
Building facade.
bathroom.
Hotel.
Office building.
fireplace.